We've got a little challenge for you - see if you can find a dog who doesn't go nuts over Nugget's Bone Broth Jerky. Spoiler alert: not possible!
Jerky treats are some of our most popular because dogs (and even cats!) can't seem to get enough, thanks to their taste, texture, and smell. Us humans love them, too, because they're high in nutrition and low in calories, meaning they make for the perfect healthy snack or guilt-free training treat. Of course, like anything, not all jerky is created equal, which is why we pay close attention to every little detail of a brand before putting it on our shelves. Remember: if we wouldn't give it to our own pets, we won't give it to yours, either!
We're excited to announce that after much sniffing around, we've found our newest jerky obsession: Jammin' Jowlers! They're made by Nugget's, a woman-owned small business whose goal was to create something truly unique, and boy, did she succeed! What makes this jerky stand out from the rest is that the first ingredient is gelatinous bone broth. Yes, you heard us right, this is a bone-broth based treat, meaning all the savory goodness comes straight from the same type of bowl-boosting broth you've been topping your pet's food with (or maybe you haven't been, in which case this is a great time to start!).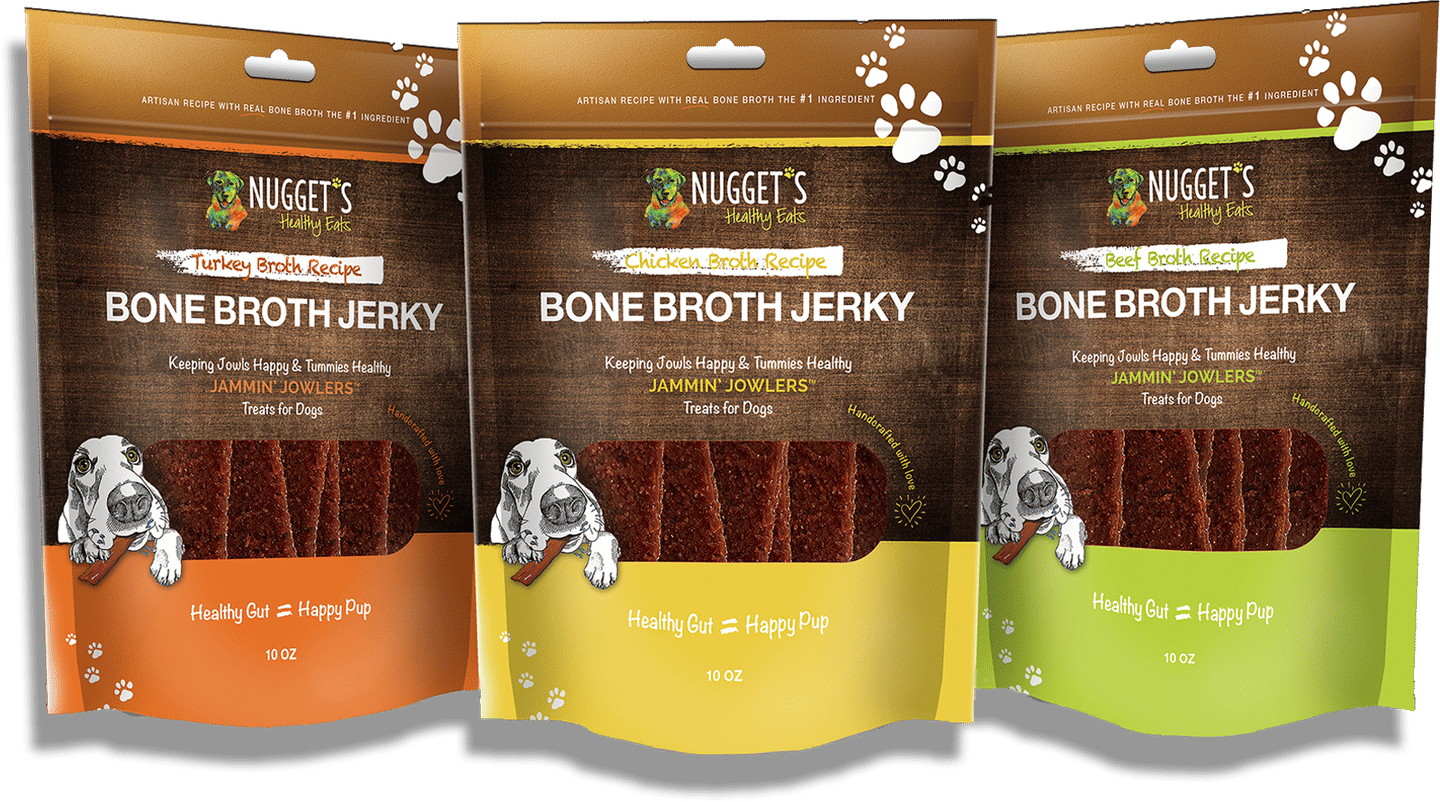 There are three different proteins to choose from--chicken, turkey, and beef--all made from slowly simmering bones in water to absorb skin, coat, and gut-healthy collagen. Cocotherapy coconut chips are also added for even more gut and skin support, while shiitake mushrooms keep your pet's digestive healthy while giving them a boost of antioxidants.
What's even cooler is that since this jerky is broth-based, it doesn't have the same toughness of the traditional stuff, meaning dogs of all ages and stages can enjoy the chewy texture. They also make for great training treats, and their aromatic qualities mean they're perfect for challenging your dog to a game of "find it"!
Check out twobostons.com or visit us in-store to grab these tasty treats and more.