Winter brings great news for every dog who loves a good ole' morning roll in freshly fallen snow, but not so much for their paws. Just like us humans, exposure to the cold can lead to frostbite if you aren't careful, but did you know your pup's paws are at risk of getting burned, too?
Ice melt (AKA salt), is the stuff that clears your sidewalks but always manages to get stuck in your boots. It's specially blended with calcium chloride and magnesium chloride to make for an efficient method of melting snow and ice, but as a result, can actually give your dog painful chemical burns. It can also lead to tummy trouble, as some dogs have a bad habit of licking it off their paws or pavement, but luckily, we have just what the doctor ordered to...well...keep them from needing a doctor!
Safe Paw Ice Melt is exactly as the name implies: it's perfectly safe for paws, and effectively melts ice away in as little as 10 minutes! It's also child-safe, environmentally friendly, non-corrosive, and won't kill your plants! And yes, it's 100% made in the USA.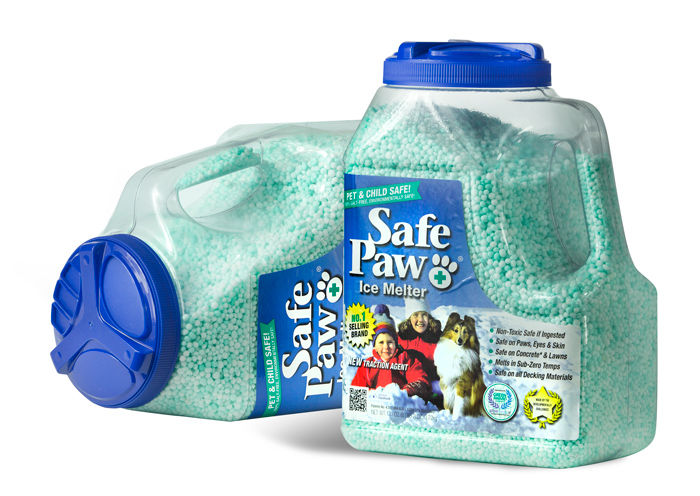 The secret is in the patented dual-effect compound. Rather than typical ice melt, which just melts away ice, Safe Paw also prevents more ice from forming for up to 72 hours. The granules have special crystal cores that effectively penetrate and destabilize ice, while absorbing the sun's rays to further melt all that is slippery. The best part? It also features a special a traction agent to help prevent slipping!
Safe Paw comes in an 8 lb jug with an easy-to-open, re-sealable top, and as if that's not already convenient enough, you only need to use about half of what you would of the other stuff, saving you tons of time and money. Stay safe this winter when you shop Safe Paw Ice Melt and other great products in-store or online at twobostons.com!