It's Dental Health Month and we're here to remind you that proper oral care is crucial to giving your pet a happy, healthy, and long life. We know it's not exactly something you're excited to do, but cleaning your pet's teeth can prevent plaque buildup, decay, and disease! Luckily, keeping your pet's chompers pearly white is much easier than you think with just a little patience, and the Triple Pet Finger Brush.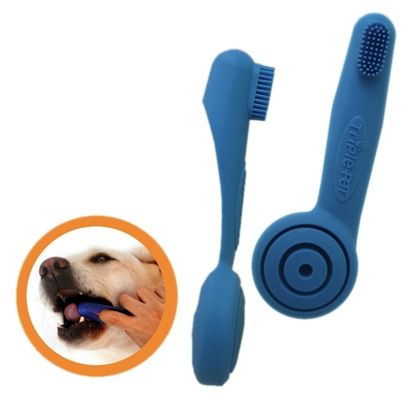 Remember: a relaxed dog is a happy dog. Don't try to work on their teeth while they're in the middle of their morning zoomies. Wait until you're relaxing on the couch or they're napping in their favorite spot. If they're already settled, and comfy, they're less likely to squirm. A little CBD or other relaxation aid ahead of time is never a bad idea, either!
Now that you've got a chilled out pup, it's time to grab your tooth brush. Don't worry, the Triple Pet Finger brush is way different from what we humans use. For starters, there aren't any harsh bristles, but rather, flexible rubber nubs that effectively scrape away plaque without hurting their gums. It's smartly designed to slip over your finger, giving you better control so you can do a thorough (and fast!) job cleaning. Once you're done "brushing" their teeth, just pop the Finger Brush in the dishwasher so it's ready to go for next time!
Ready to say bye bye to bad breath? Check out these products and many more in-store or online at twobostons.com!