We know every Pet Parent has a different experience when it comes to bath time. Some dogs absolutely love getting pampered and scrubbed, while others…not so much. But no matter what they're like when they're in the tub, there's still one dirty truth that's important to know: smelling nice and being clean are two totally different things.
A lot of grooming products on the market do a great job of getting sudsy and making your dog smell like spring flowers, but more often than not, they're just masking odors and getting rid of surface-level debris (mud, mystery goop from when they dug in the garbage can, etc.). That means after all your hard work scrubbing your dog clean, an abundance of bacteria and germs remain.
On the flip side of things, the shampoos that kill the icky stuff also tend to contain harsh chemicals. Methylchloroisothiazolinone (don't worry, we can't pronounce it either), polysorbates, and isopropyl alcohol are all dangerous ingredients that can certainly kill germs, but may also cause skin irritation, rashes, and in extreme cases, organ failure. Even artificial fragrances can prove to be harmful since they contain strong amounts of alcohol, which is why it's probably time you clean out your grooming products.
You've probably heard us talk about probiotics before, especially since we can't recommend things like probiotic treats, and probiotic kitty litter enough! Why? Because it's an effective, natural way to get rid of bad bacteria, germs, and other nasty things without harming your pet. It even kills odors! Since springtime also means a little extra mud around the house and pollen in the air, we've been staying stocked up on Skout's Honor, one of our favorite probiotic grooming brands.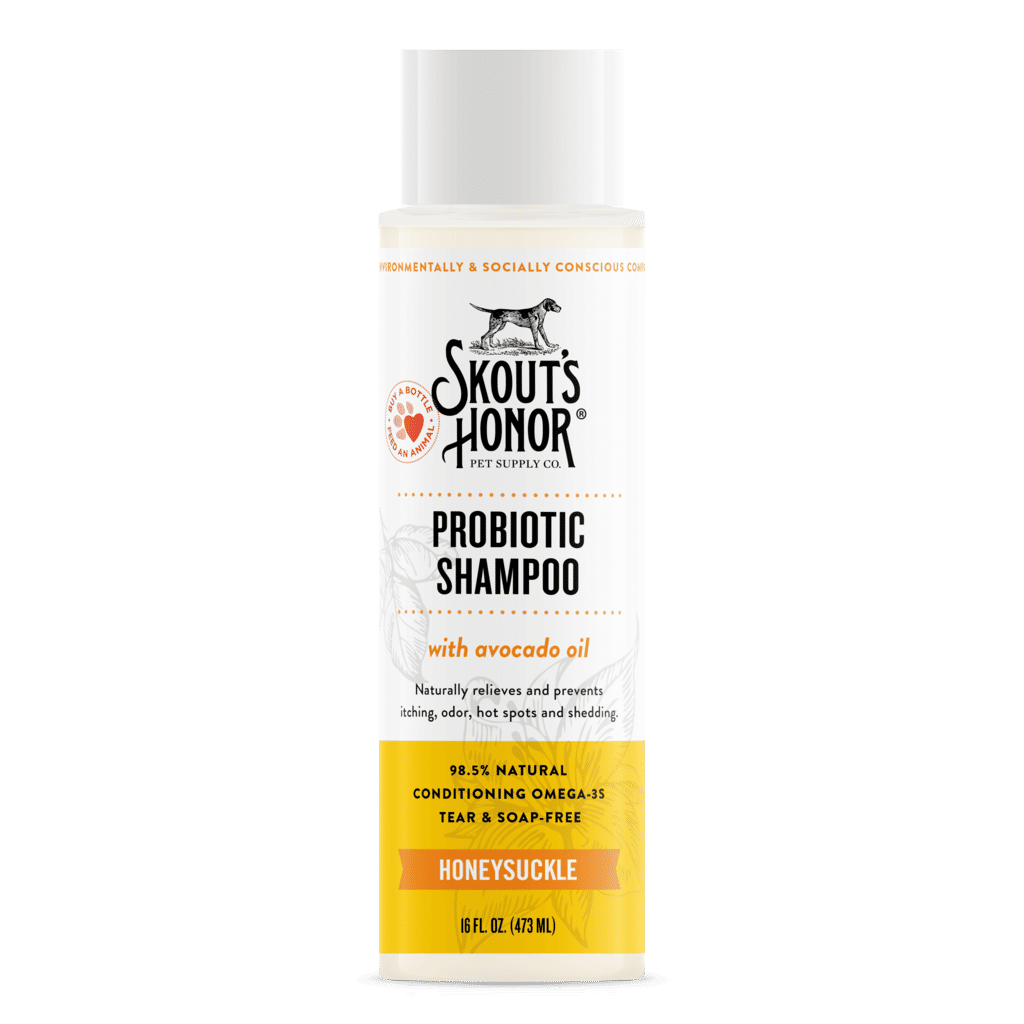 Using all natural, plant-based ingredients, Skout's Honor works gently on skin and tough on germs—and that's not just limited to the tub! While we can't get enough of their shampoos (the lavender scent even has a great calming effect), we also love using Skout's Honor products on messes around the house. Their stain + odor remover works like a charm while the sour sprays do an amazing job of keeping our pets from chewing on furniture without the risk of ingesting toxic chemicals.
Ready to clean out your old grooming stuff and start fresh? Shop these and other amazing products in-store or online at twobostons.com.