Have you ever leaned over to give your loved one a smooch just to find their breath is...less than kissable? While there's not much we can do for your significant others, we can cure your furry friend's icky dog breath, which let's be honest, is more important anyways.
Yep, that's right, you're not doomed to a life of smelly kisses from your pup, which is news so exciting there's an entire month dedicated to it (spoiler alert: it's this month)! Of course, getting your nose licked without having to hold your breath is only part of why we celebrate oral care in February. Having a healthy smile can prevent disease, pricey vet bills, and ultimately give your pet a better quality of life! Unfortunately, oral care is one of the most overlooked aspects of Pet Parenthood, which can lead to problems later in life, but there's no time like the present to get your pet's smile back on track.
The idea of brushing your dog's teeth can be intimidating, but we've got you covered with something no pup can resist: treats! Cloud Star recently added dental biscuits to their line of tasty Wag More Bark Less treats, and we can't get enough of them.
The first thing you'll notice about these bite-sized biscuits is their black color, which comes naturally with bone charcoal, a natural teeth-whitener that also kills odor-causing bacteria. Of course, your dog won't care much about the color when they get a whiff of yummy, minimally processed chicken and tasty, breath-freshening peppermint!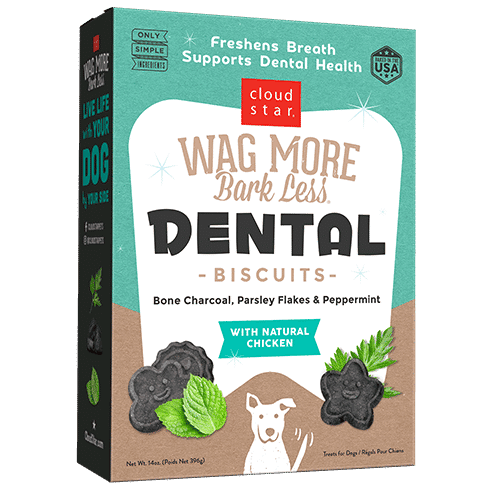 Every treat is oven-baked in small batches right here in the USA with no artificial flavors or colors - just simple, clean ingredients. Grab a box of your own in-store or online at twobostons.com!